Interest rates have a big affect on the Housing Market.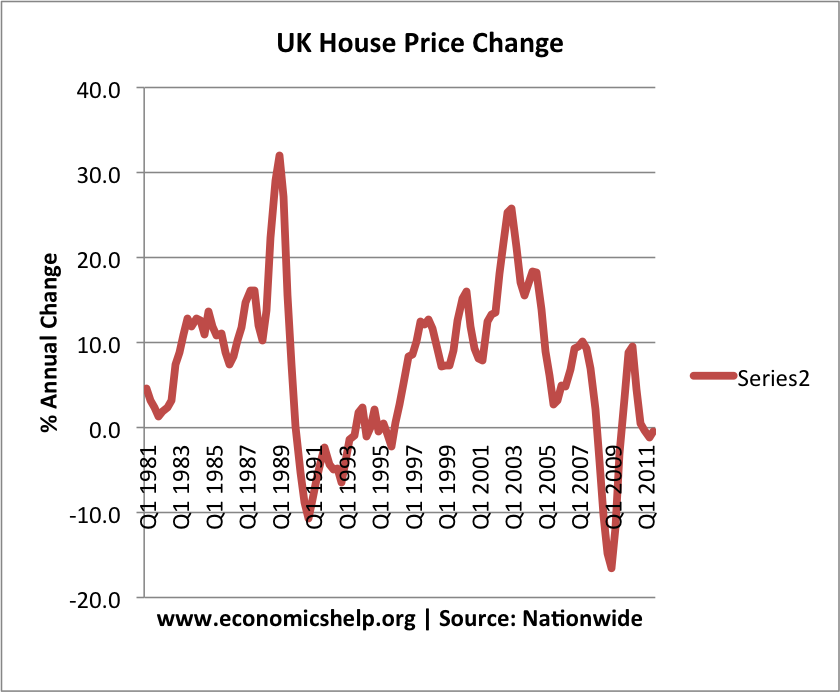 Higher interest rates increase the cost of mortgage repayments making it less attractive to buy houses.
Lower interest rates, with adequate supply of loan funds will make it attractive to buy houses.
In the UK many homeowners have a variable mortgage. This means that the cost of their mortgage is dependent on changes in the Bank of England repo rate (better known as the base rate)
If interest rates increase the following occurs.
Mortgage interest payments increase, reducing disposable income of consumers
Demand for houses falls, possibly causing lower house prices.
Higher interest rates also make it more attractive to save rather than spend money.
Higher interest rates also increase the value of the exchange rate, though this has little impact on the housing market.
Time Lag of Interest Rates.
When the Bank of England increases interest  rates it might take a long time before it has an effect on reducing demand. This is because people don't respond immediately to changes in interest rates. Firstly a significant % of people have a fixed rate mortgage and therefore, they will be insulated from changes in the interest rates for the duration of their fixed rate term. However, when their term expires they will have to negotiate a new deal. If rates have increased alot they will experience a significant impact on the cost of their mortgages.
Depends on Economic Situation.
The effect of interest rates may also depend on the situation of the economy. If the economy is in a recession, then any increase in interest rates would have much more effect than when the economy is doing well and people have a lot of confidence.
Base Rates and Bank Rates.
When the Bank of England change interest rates, commercial banks are not forced to change their rates. Sometimes the Bank of England may cut rates, but commercial banks may decide to keep theirs unchanged and just make a bigger profit margin.
International Events
The 2011 Euro zone crisis will push up interest rates. The downgrading of USA from a triple AAA+ rating means the US will have to pay more to borrow on treasury bonds. This will push up interest rates generally and on housing finance specifically.
Low interest rates in the UK since the housing market crash has not protected the Housing Market. The drop in values may have been significantly worse if interest rates had been higher. More defaults, repossessions and more stock on the market without funding.
Updated Aug 2011 from April 2008